Mathematics
Teaching Staff
Mr M Lambe BEng (Hons) PGCE MEd (Head of Department)
Mrs Z Horner BSc (Hons) PGCE
Mrs H MacCorkell BSc (Hons) PGCE
Mrs J Officer BSc (Hons) PGCE
Mrs C Fittis MSc (Hons) PGCE
Mr R Magill BEd (Hons)
External Examinations:
GCSE Mathematics (CCEA)
GCSE Further Mathematics (CCEA)
GCE AS & A2 Mathematics (CCEA)
Description of Department:
The Mathematics department seeks to provide a learning environment which will stimulate and encourage pupils by producing thought provoking and challenging work. We have high expectations of our pupils and aim that each will achieve their full potential.
Key Stage Three (Years 8-10)

Pupils are split into four classes of mixed ability and follow the Key Stage 3 programme of study under the main topics Number, Algebra, Shape, Space and Measure and Handling Data.
At the beginning of Year 8 pupils sit a baseline test that sets appropriate targets for them throughout Key Stage 3. Pupils can then track their progress against these targets to ensure that they see progress and experience success as they grow in their mathematical knowledge and understanding.
Key Stage Four (Years 11 & 12)

Pupils are split into five classes at Key Stage 4. One of these classes sits GCSE Mathematics in Year 11 and GCSE Further Mathematics in Year 12 while the other four classes undertake a two year program of study for GCSE Mathematics.
Throughout their study of GCSE Mathematics pupils are supported in their choice of modules and are given the opportunity to sit modules in both Year 11 and Year 12 to ensure that they reach thir full potential.
Years 13 & 14
Pupils can study AS Mathematics in Sixth form and A2 Mathematics in Upper Sixth in a modular course which includes Pure Mathematics and Applied Mathematics.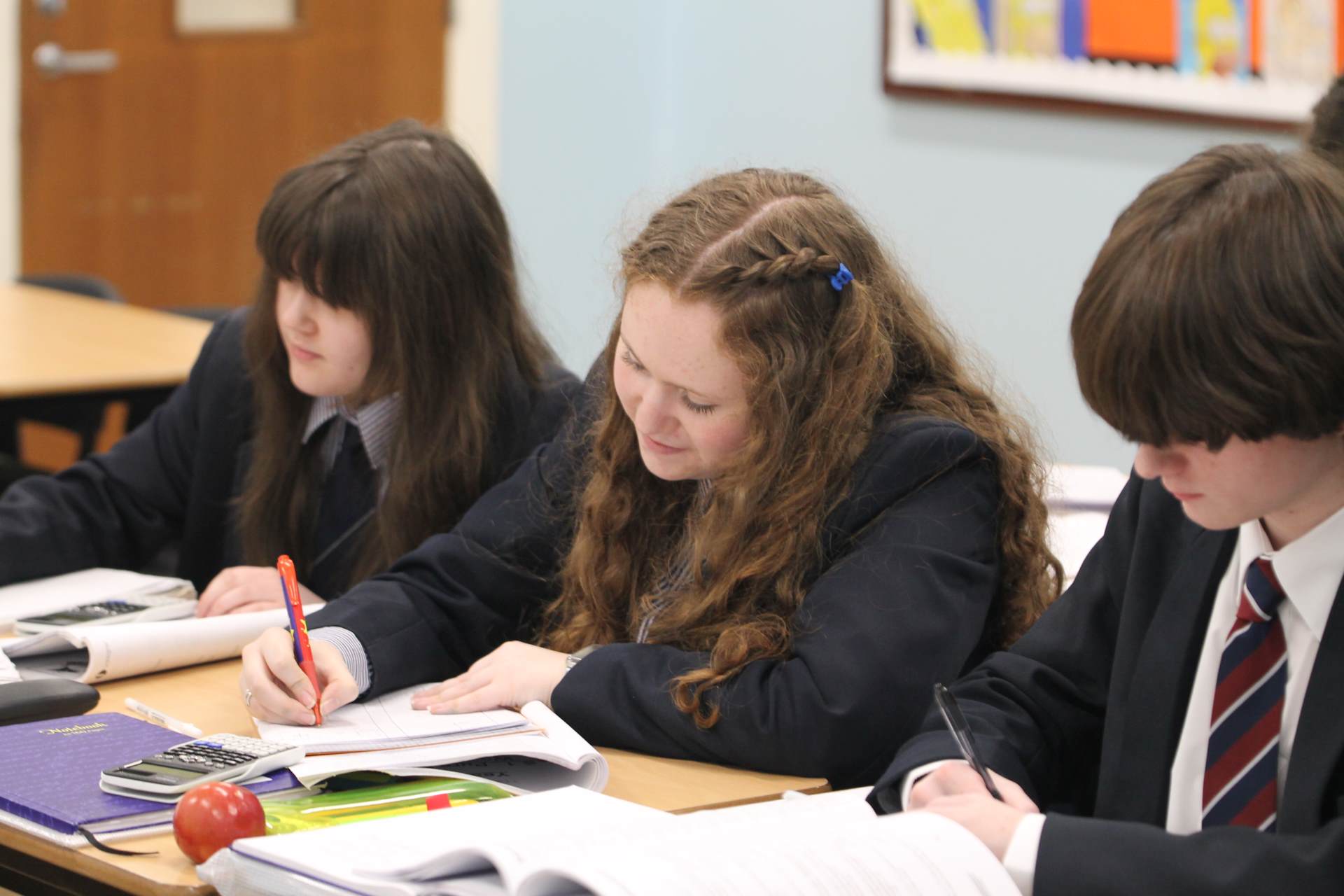 Additional Resources
A range of additional resources, notes and links to useful websites can be found on the Mathematics Department's dedicated site - www.larnegrammarmaths.org.uk
//www.youtube.com/embed/_0SIPv2e9W8